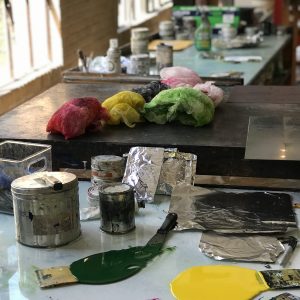 Crown Point Press Etching Workshops
Every summer, Crown Point Press offers traditional etching workshops for all skill levels. Instruction focuses on getting good results from the medium; aesthetic advice is not given. Participants work independently with instruction and guidance from our three printers, two of whom are master printers. Each workshop is limited to 10-11 participants.
All the workshops are FULL. We do have a wait-list so if you are interested in being put on that, please send in an application along with order of week preference.
Week 1:    June 20 – June 24
Week 2:    June 27 – July 1
Week 3:    July 11 – July 15
Each workshop runs Monday through Friday, from 9 AM to 5 PM.
There is no access to the studio before or after hours.
The workshop fee is $1800 per week, with an additional cost charged at the end of the workshop based on your use of copper and paper, which we supply.
Because of COVID, we are making the following changes to how we run the workshops:We follow the health protocols of the State of California and the County of San Francisco.
Each participant must show proof of full vaccination and booster at the time of sign-up.
High-filtration masks must be worn at all times in the Crown Point building.
We will encourage social distancing.
To apply, please fill out the brief application even if you are a returning participant. We will accept applications until the workshops are full. You will find details about fees and our cancellation policy there.
If you have a particular question that you do not find answered in our FAQ section, please email Sasha Baguskas, our workshop administrator.
We look forward to seeing you this summer!
Learn More About the Instructors