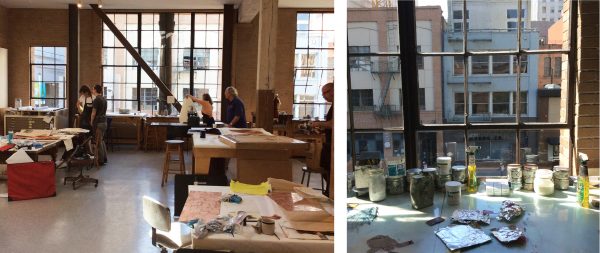 Crown Point Press Etching Workshops
Summer 2019 Schedule
The workshops are all full this summer! Please read below to see how we run the workshop. Sign up for our email announcements at the bottom of the page to receive our 2020 schedule.
Crown Point Press offers four week-long etching workshops each summer. Each session is open to all levels of experience. Participants work independently with instruction and guidance from our three master printers. Each workshop is limited to 11 participants.
Week 1: June 17 – June 21
Week 2: June 24 – June 28
Week 3: July 8- July 12
Week 4: July 15 – July 19
The workshop fee is $1800 per week, with an additional cost charged at the end of the workshop based on your use of copper and paper, which we supply. Each workshop runs Monday through Friday, from 9 AM – 5 PM. There is no access to the studio before or after hours. Please read our FAQ sheet to answer some of your general questions.
Payment is due in full upon your acceptance and is non-refundable after May 1. If you need to cancel before May 1, we will reimburse half the fee.
Application for 2019 Summer Workshops
Learn More About the Instructors