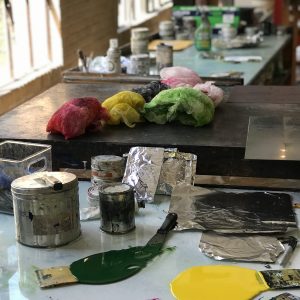 Crown Point Press Etching Workshops
Every summer, Crown Point Press offers traditional etching workshops for all skill levels. (We are not offering photogravure workshops.) Instruction focuses on getting good results from the medium; aesthetic advice is not given. Participants work independently with instruction and guidance from our three printers, two of whom are master printers. Each workshop is limited to 11 participants.
Due to the novel coronavirus pandemic, we have had to cancel this summer's workshops. We hope to see you next summer, so check back with us in January 2021 for the new summer schedule.
Learn More About the Instructors