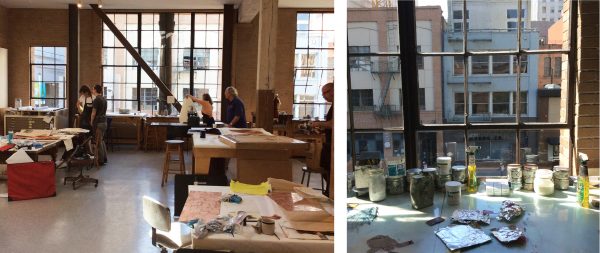 Crown Point Press Summer Etching Workshops
During the months of June and July Crown Point Press offers week-long etching workshops, Monday through Friday, 9 a.m. to 5 p.m. In general, participants work in our studio at their own speed. Our Crown Point master printers give informal technical demonstrations and personal instruction as needed.
The instruction focuses on getting good results from the medium; aesthetic advice is not given. All skill levels are welcome though prior etching experience is a prerequisite for participation in the advanced session. We specialize in traditional etching techniques; we do not offer photographic processes during the workshop.
We do our best to accommodate all who are interested, including former and new participants.  If you are interested in hearing about future workshops, please click on the link below to sign up for our email list.
We will announce the 2019 Summer Workshop schedule in early Februrary. Please keep an eye open for it!
Learn More About the Instructors