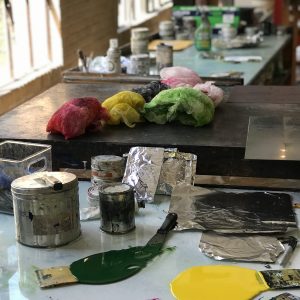 Crown Point Press Etching Workshops
Every summer, Crown Point Press offers traditional etching workshops for all skill levels. (We are not offering photogravure workshops.) Instruction focuses on getting good results from the medium; aesthetic advice is not given. Participants work independently with instruction and guidance from our three printers, two of whom are master printers. Each workshop is limited to 11 participants.
The 2020 etching workshop schedule is as follows:
Week 1:    June 15 – June 19
Week 2:    June 22 – June 26
Week 3:    July 6 – July 10
Week 4:    July 13 – July 17
The workshop fee is $1800 per week, with an additional cost charged at the end of the workshop based on your use of copper and paper, which we supply. Each workshop runs Monday through Friday, from 9 AM – 5 PM. There is no access to the studio before or after hours.
To apply, please fill out the brief application even if you are a returning participant. We will accept applications by email until February 10 or until the workshops are full. You can find the application here; also refer below to our FAQ sheet (frequently asked questions) for more information
Beginning the week of February 10th, we will attempt to place you in your first-choice workshop. If you have flexibility, please list a second, third or fourth choice. We do our best to accommodate everyone, but due to high demand it is not always possible. We will confirm your placement by email, and payment in full is due upon acceptance and to guarantee placement in the workshop.
If you have a particular question you do not find answered in our FAQ section, please email Sasha Baguskas, our workshop administrator.
We look forward to seeing you this summer!
Learn More About the Instructors